CHURCH OF ST. FRANCIS OF ASSISI
Nechce sa vám čítať? Pustite si audio verziu:
The Church of St. Francis of Assisi rises in the upper part of the village of Hervartov, on a gentle slope, embraced by high lime trees, enclosed by a stone "wall" covered by shingle. It is the only Roman-Catholic wooden church among the Eastern Slovak wooden churches included in the UNESCO List of the World Heritage.
Hervartov is a municipality in the district of Bardejov with a population of about 500.ublic. The wooden Francis of Assisi Church there is a suitable turning off road to or from Bardejov.


This is probably the oldest wooden church in Slovakia.

It was built at the end of the 15th century and is the oldest wooden church in the Gothic style in this preserve. Its exterior has remained almost pristine even after more than half a millennium. The main altar was built between the years 1460 and 1480 and shows the Virgin Mary, St. Catherine of Alexandria, and St. Barbora. Some of the artefacts, such as originals of the side altar wings or the wooden case sanctuary from the early 16th century, are deposited in the National Museum in Budapest.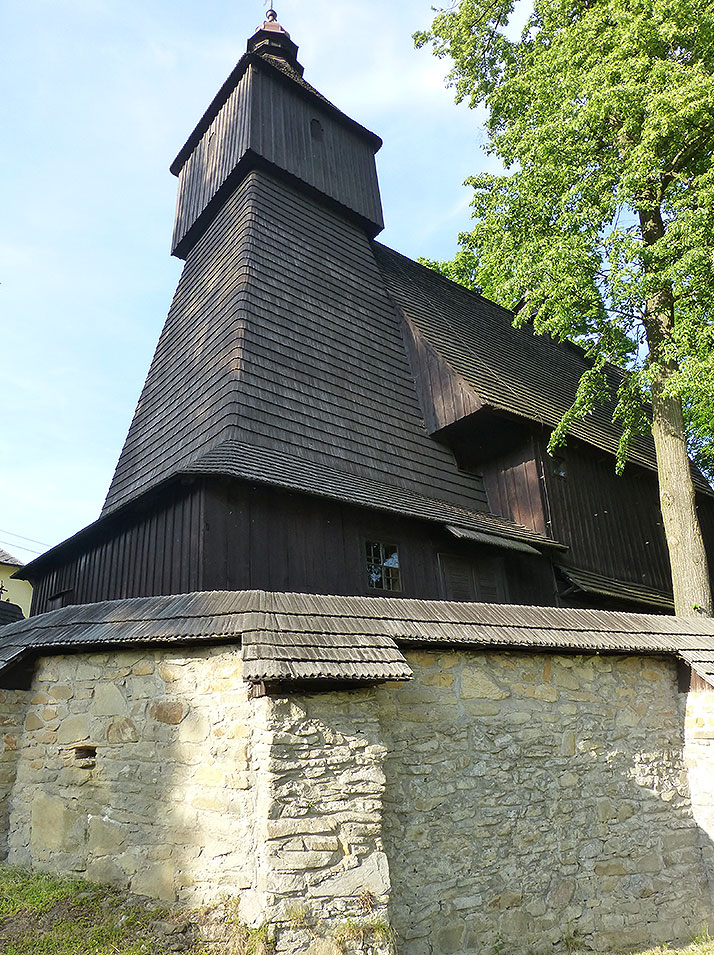 The interior decoration of the church was significantly influenced by the Reformation, when the church became a Protestant church for a short time. From this period, specifically from the year 1665, come the paintings on the southern wall of the nave. They present Biblical scenes of Adam and Eve under the tree of knowledge, of St. George in his fight with the dragon, and the parable of the wise and the foolish virgins. Their educational function is underscored the Bible quotes in Latin and in the Biblical Czech.

Virtual tour
SHARE!