Temple of transfer of the relics of St. Nicolas
In the beautiful surroundings of the sub-Vihorlat forests, in the village of Ruská Bystrá, the easternmost representative of all the Slovak wooden churches included in the UNESCO List of the World Heritage is situated – the Greek Catholic Temple of the Transfer of the Relics of St. Nicholas. The Church was built in the year 1730. It rises on an elevated place amidst the village and, as to its colour it stands out against the surrounding green background of massive trees.
The neighbourhood of the village of Ruská Bystrá provides almost endless possibilities for active recreation for both body and mind. One may wander to one's heart's content in the adjacent forests along the routes of hiking trails. Sturdy tourists may continue westward, up to the next UNESCO World Heritage site – the Vihorlat mountain range and its unique beech-tree primeval forest. The small church in Ruská Bystrá is one of the virtual highlights of the "triangle of the far East" attractive to visitors. In the small area here, in addition to the Church of the Transfer of the Relics of St. Nicholas, you may also visit by car, on foot or by bike, another interesting Greek-Catholic church (a national monument) in Inovce and also the so-called Beňatín travertine or the flooded Beňatín quarry with a unique "fossilized" whale.

The easternmost representative of the UNESCO entry, "Wooden Churches in the Slovak Part of the Carpathian Arch".

This is a unique place of tranquillity, where you may devote yourself to contemplation of the meaning of life in the shade of a tiny little church, surrounded by majestic nature.

The interior is dominated by a five-row Baroque iconostasis. The iconostasis is the heart of any Eastern-rite temple and forms the architectural-sacral divide between the shrine (a space for God) and the nave (a space for the believers). In the first row of the church in Ruská Bystrá, in the first and the main row of the iconostasis, there are icons depicting the Mother of God Hodegetria, Christ the Teacher, St. Nicholas, and St. Paraskieva. Due to the small size of the object, the iconostasis unusually protrudes into the side walls, and even to the temple ceiling. In the sanctuary, a rare icon of the Crucifixion is placed.
This three-dimensional building has a ground plan of successively arranged squares and consists of the small shrine, the nave, and the tower. The log cabin is not sheathed, but is protected by the overhanging roof covered by shingles. The exterior of the temple appears modest. The only expressive decorative feature is the top of the bell tower, which, however, is far from decorative fineness typical of other Greek Catholic wooden churches in the Carpathian region.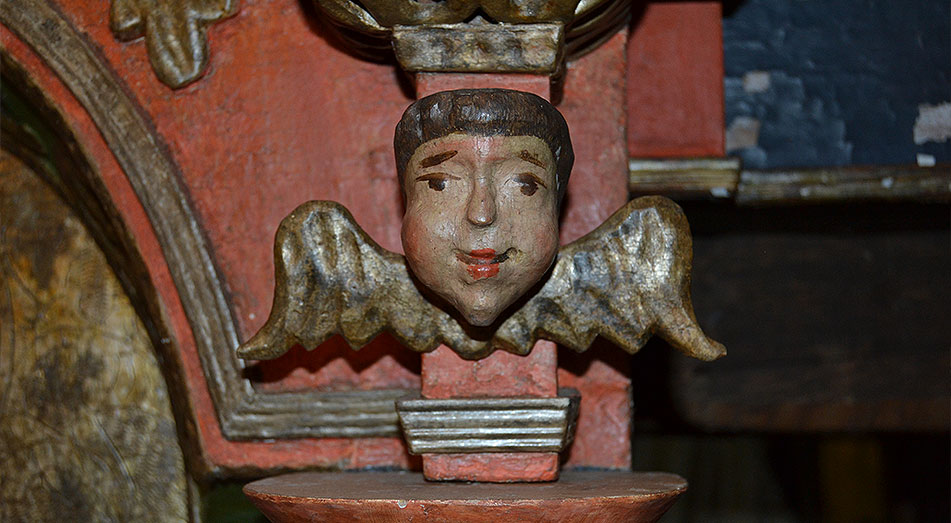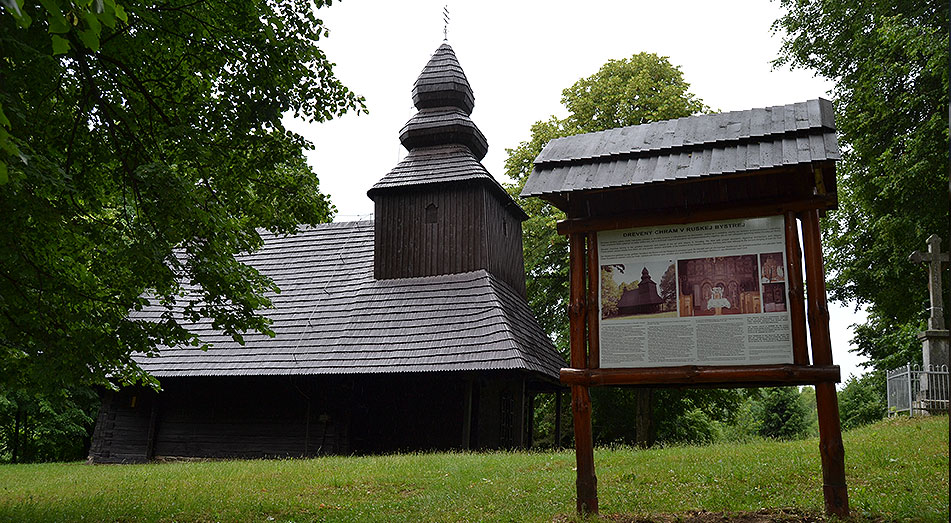 Virtual tour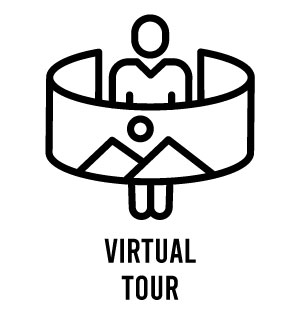 SHARE!