The cave is decorated by sinter straws reaching up to 3 metres in length.
There are several caves accessible to the public in the territory of the Košice region, each of them being unique enough to be seen with your own eyes. This is also true of the Gombasecká jaskyňa cave, whose interior is decorated with charming needles dangling from the ceiling. The "needles" are in fact extremely thin sinter straws (stalactite formations), which by virtue of their diversity materialize an infinite variability of nature creations.The snow-white glassy straws, 2 to 3 millimetres thick and 3 metres long, are the European rarity. They create a strong colour contrast against the background of brown-black limestone walls.
The cave is located in the middle of the Slovak Karst National Park and its entrance is located approximately 250 metres above sea level.


This is the first cave in Slovakia that started to be exploited for speleotherapy.

It was discovered in the year 1951 by volunteer speleologists from Rožňava. The most impressive areas of the cave include the Marble Hall with a well eight metres deep or Hall of Hiroshima, which is dominated by a stalagnate reminiscent of a mushroom cloud. In the courtroom of Ladislav Herényi (named after one of the discoverers of the cave), these thin straws are so densely grouped together that they evoke an image of a stone rain.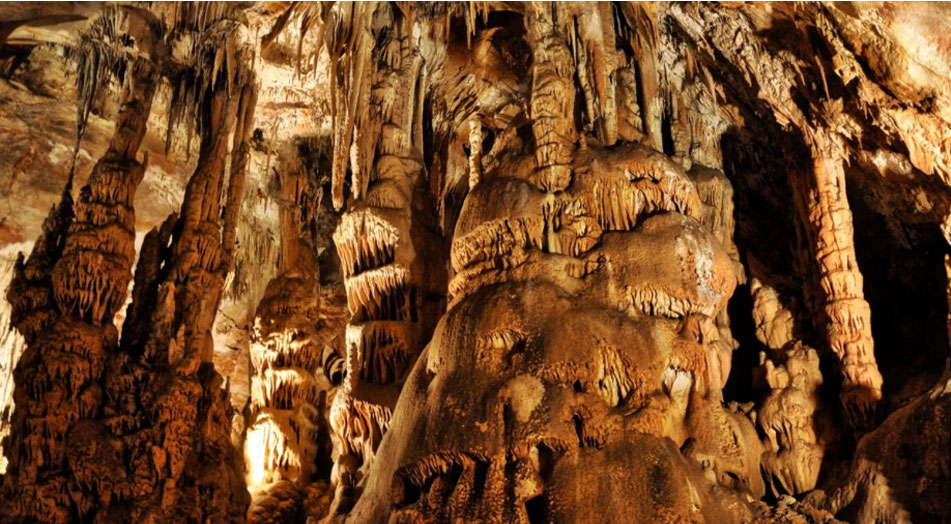 In the Gombasecká jaskyňa cave, there is also the lowest ice cave of the temperate climate zone - the Silická ľadnica ice cave.

The route shorter than 300 metres is available to the public from the total length of the cave (approximately 1.5 kilometres). However, the guided tour goes through almost the whole of this part two times, therefore it would take about half an hour. The walk through the cave itself is not physically demanding, as the total elevation is only 7 to 8 metres. In addition, the microclimatic conditions are suitable for the respiratory diseases treatment - the temperature in the cave is around +9° C, the relative humidity being 95 per cent to 97 per cent. This is one of the reasons why the Gombasecká jaskyňa cave began to serve the purposes of speleotherapy as the first one in Slovakia.
The brothers Suchý discovered in this cave previously unknown spaces, including a huge lake, in the summer of 2016. The total known length of the cave containing new corridors is thus 2 kilometres. However, the newly discovered space is hard to access, so only experienced speleologists can get there.

Virtual tour
SHARE!